Project VILLA HOUSES, Na Vyhliadke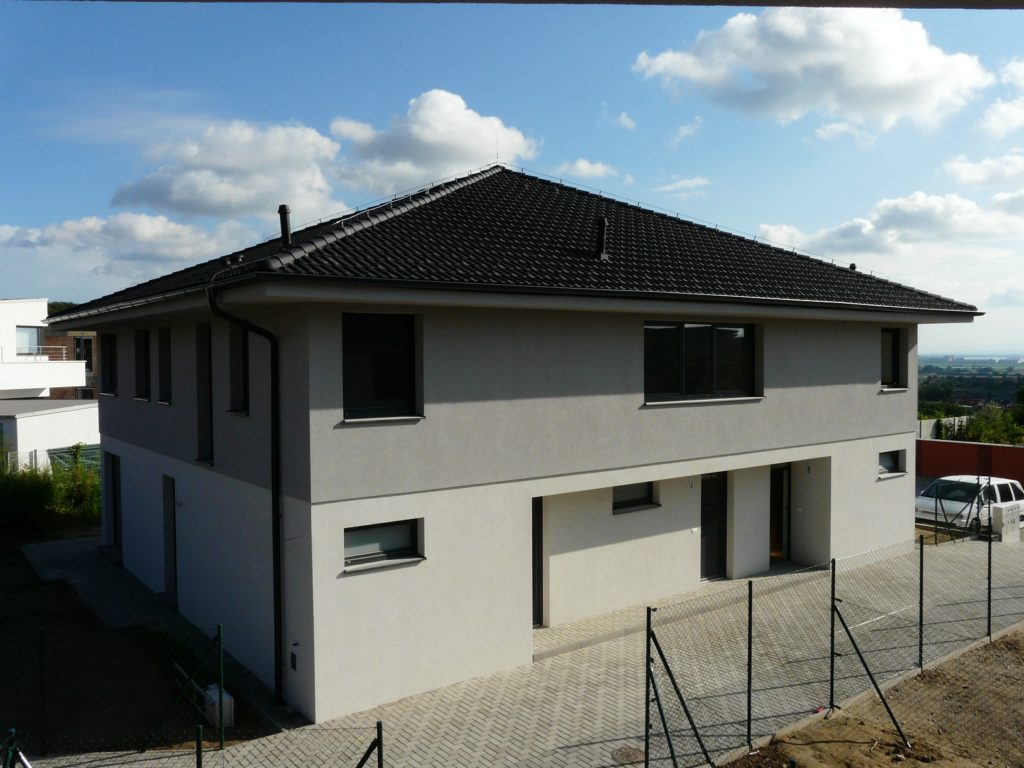 Exclusive terraced family houses with own garden in an outstanding environment near the forest in Stupava, in a new location in the street Na Vyhliadke.
Family house with living spaces oriented to the South available as an unfurnished space or with the possibility of full completion in standard of traditional high-quality materials (fired bricks, roof tiles) with in-floor heating in the whole living space with its own gas boiler and hot utility water heating, windows and doors of modern composite materials, acoustic partition walls for high acoustic comfort of living, thermal insulation of the building with thickness 12 cm for thermal comfort in the summer and winter, complete electrical installation including preparation for outdoor garden appliances, paved access and parking area, connection to all utility supplies.
Both the building and the acoustics are separated from each other up to the level of the roof, whereby the housing unit, in addition to the basic utility area, has a generous storage space under the roof, accessible to the 1st storey as well as a closed chamber in the space below the staircase.
Total floor area of family house without terrace is 90,73 m2; paved floor area of terrace is 15,20 m2; total area 105,93 m2.
Standards of house – villa house – Traditional materials in good quality for fair prices
At the time of concluding a Purchase Contract, the family house will be UNFURNISHED with the possibility of standard completion with following elements:
Foundations:
shallow strip foundations of plain concrete, width 500 mm
blinding concrete 150 mm, compacted gravel hardcore 100 mm
waterproofing bitumen membrane insulation, assembled on blinding concrete with penetrating coating
Load bearing walls:
outdoor load bearing masonry walls of bricks PROFIBLOK, thickness 300 mm
Ceiling construction:
above the ground floor, monolithic reinforced concrete slab, thickness 160 mm
above the first floor, wooden construction with suspended gypsum plasterboard ceiling + thermal insulation ISOVER 2×100 mm
vyvedenie kanalizácie je riešené do obecnej kanalizačnej siete
Roof:
adhesively bonded timber truss
roofing TERRAN Danubia CS with waterproof insulation
Staircase:
monolithic reinforced concrete
L-shaped slab with concrete staircase steps
Exterior wall finishes
exterior polystyrene thermal insulation, thickness 120 and 140 mm
facade silicone plaster, thickness 1,5 mm
Interior wall finishes:
lime plaster with white coating
Windows, doors and sills:
windows and doors in outdoor walls are designed of KBE-70 (system with closed steel profiles, in the doors is assembled metal profile with thickness 3 mm) with ROTO-NT fittings
thermal-insulating clear triple glazing
exterior aluminium window sill in the color of windows, indoor window sill of white color
thermal-insulated preparation for embedded blind boxes for all windows + cabling
Wall and floor tiling:
ceramic wall and floor tiling is not included in the scope
Heating:
hot-water in-floor heating of plastic-aluminium pipes
separate gas condensating boiler with integrated tank for hot utility water heating
Water installation and sanitary equipment:
hot and cold water installation, thermally insulated
installed flush cisterns for hanging toilet (GEBERIT)
the building is connected to the public water supply DN32 through common water meter shaft, where a separate water meter for the house is installed.
Sewage system:
plastic sewage pipes PVC DN 160, installed in wall chasing and under floor
sewage output is connected to the public sewage system
Gas installation:
gas connections DN25 installed to the boundary of individual lands for houses
gas meters installed in the boxes
Electrical installation:
complete electrical installation, including switches, sockets, home switchgear, phone, TV and lighting conductor.
Installed under plaster, or in the floor. Supply is solved by connecting to the existing connection through underground cabling and cabinet with the termination in the switchgear, which is installed in the fence from the side of street.
separate electricity meter for each apartment unit
electrical connection point to washing machine, electric oven and range hood
tube preparation for fixed phone line + 1x phone socket
tube preparation for TV + 1x TV socket in living room + tube preparation for cabling from the roof
home bell, socket on the terrace
Others:
Chain link fencing of the land – plastic-covered galvanized steel, dark green color
Surface layer of outdoor areas (terrace, parking area): block paving, or concrete blocks, grey color
Land shaping works in the scope of land alignment to the height of 20 cm below the groundfloor level of the building
Separate electricity meter, gas meter and water meter for each apartment unit
Mailboxes
Central point for rubbish bins
Reserved common parking slots for visitors beyond the number of own parking slots
Possibility of standard turnkey house at preferential conditions
The subject of Family House does not include floors, floor tiling, interior doors, door frames, wall tiling, sanita