Logistic centre ZOHOR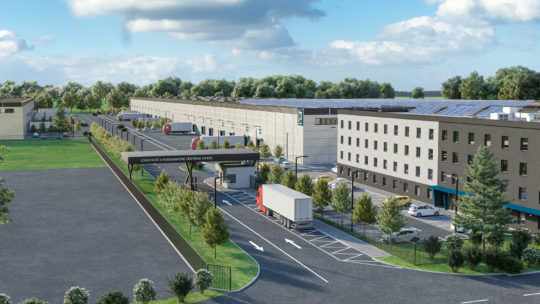 We identified the location as strategic for our mission in terms of location, development opportunities and ideal transport connections by both road and rail. We decided to design complex logistics and consignment center with facilities and additional services, such as office space or temporary accommodation facilities in three multifunctional buildings in accordance with the zoning plan of the municipality of Zohor.
Having performed a comprehensive analysis of the area and considering the best possibility of its use we considerable took into account the proximity of existing industrial and logistics facilities as well as excellent transport accessibility by road 1105 and road 2, from the D2 motorway / Lozorno exit /. The distance to the D2 motorway EXIT is about 1.5 km. The area of the first development stage of the Zohor Logistics and consignment center covers 11 ha of land.
full scope preparation of logistic centre on 10+ hectare site, accommodation facilities , civil engineering and infrastructure preparation
Location: Zohor, Malacky, Slovakia , D2 motorway EXIT Lozorno
Usage: logistic and technology centre
Plot area: approx. 114.150sqm
Hall area: 47.140sqm
Office and social space: 8574sqm
Parking lots: 341 passenger cars
Partner: LOGISPOINT, s.r.o.
Pur mission : property acquisition, project financing,  technical and legal due diligence,  preparation of documentation for permits, permit management
Valid zoning permit and building permits for infrastructure (50+ hectare capacities)